Foliar fertilization with ZnO nanoparticles and its ef fect on production, biophysical and nutraceutical quality of pecan nuts (Carya illinoinensis)
Keywords:
fat acids, walnut cultivars, zinc oxide, crude protein, yield
Abstract
Pecan tree is one of the most important crops in the Comarca Lagunera. Zinc (Zn) deficiency is one of the main problems that limit its productivity. Nanotechnology includes nutrimental materials, which may substitute conventional fertilizers with diverse ef fects on yield, and biophysical and nutraceutical quality in fruits. The ef fects of foliar application of ZnO nanoparticles on pecan trees (Western variety) were evaluated through the following treatments: control, 4000 (ZnSO4), 2000 (nps ZnO), 4000 (nps ZnO) mg L-1. The experimental design was randomized blocks with four replications. Variables evaluated in fruit and tree were the following: yield, number of nuts kg-1, length and width of the nut, concentration of Zn in leaflets, fatty acids, crude protein, percentage of fat and moisture. A significant dif ference was observed in yield and Zn level in the leaflets, where the best treatment was 4000 mg L-1 of ZnO nanoparticles, while for length of fruit a significant dif ference was observed, being the 4000 mg L-1 of ZnSO4 treatment the lowest value. About nutraceutical variables, the content of fatty acids evaluated by the content of saturated fats (C16:0 and C18:0) showed highly significant changes, being the treatment with the dose of 4000 mg L-1 of nanoparticles the one with the highest percentage. Unsaturated fatty acids (C18:1 and C18:3) showed significant dif ferences, where the treatments evaluated with nanoparticles were the ones with a lower percentage. Protein content also showed highly significant dif ferences, being the control treatment and the chemical based on ZnSO4 the higher treatments. Nanoparticles can be used to improve yield and supply Zn content to the crop, but fruit quality is af fected from a nutritional point of view.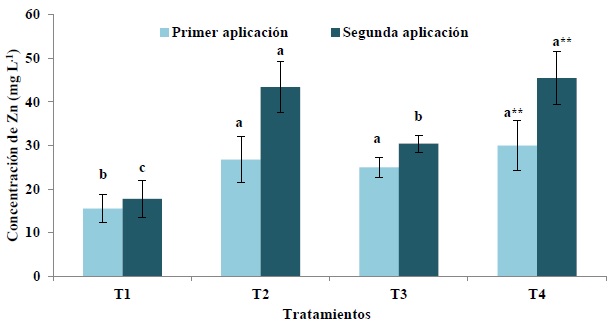 Section
Scientific Papers