Variation of water quality in the main channel of the Panuco river basin
Keywords:
CROSS, salinity, sodicity, Moctezuma river, Tula river
Abstract
The use of wastewater in agricultural irrigation contributes to improving soil productivity and solving water scarcity problems. However, problems of salinity and sodicity in the soil, toxicity to plants, and public health problems are generated. In the Pánuco River basin, which originates in the Valley of Mexico and flows into the Gulf of Mexico, is the Valle del Mezquital, where approximately 90,000 ha are irrigated with wastewater that arrives through various routes, including the Great Drainage Canal. A part of the water that is used for irrigation infiltrates and is incorporated into the bed of the Tula River, which flows into the Zimapán dam. From the Zimapán dam, the channel acquires the name of the Moctezuma River and in the lower part of the Pánuco River basin until it discharges into the Gulf of Mexico. The objective of this work was to evaluate the water quality along the channel of the Pánuco river basin through sampling, laboratory determinations and analysis through quality indices with agronomic criteria, and to compare the results of the upper part of the basin with the lower part. The results indicate that the wastewater that enters the Mezquital Valley has an impact along the entire channel, but to a greater extent in the upper part of the basin. In all the sample points, the water is classified as bicarbonate-sodium, the RSC index indicates that 96% of the sites present some type of irrigation restriction, the EC is not ideal in any of the points and the sodium adsorption ratio (SAR) evidences sodicity risks.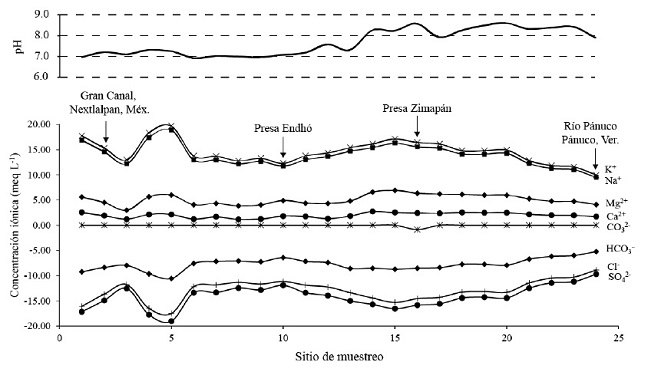 Section
Alternativas del uso y manejo del suelo del agua y la vegetación