Evaluation of the ef fect of native arbuscular mycorrhizal fungi an vermicompost leachate on the yield and quality of f ield-grown peanuts
Keywords:
Arachis hypogaea, arbuscular mycorrhizal fungi, plant yield, peanut quality, vermicompost leachate
Abstract
The improvement of the symbiosis generated by arbuscular mycorrhizal fungi (AMF) against pathogenic microorganisms has been described, however, the ef fect of AMF in peanut crops is of interest due to the value of the productive chain that has not been fully attended. Therefore, this research work evaluated six treatments: (T1) Control plants without AMF, (T2) Plants with vermicompost leachate, (T3) Plants inoculated with commercial mycorrhizae, (T4) Plants inoculated with native mycorrhizae, (T5) Plants inoculated with commercial mycorrhizae + leachate and (T6) Plants inoculated with commercial mycorrhizae + native mycorrhizae; in this sense, mycorrhizal fungi were isolated, identifying Rhizoglomus clarum, Acaulospora alpina and Acaulospora af f. bireticulata, and inoculated in peanut plants in an area of 144 m2 in the open, so that, to corroborate the incidence of the treatments evaluated, agronomic variables such as height, width of biomass, foliar damage by Cercospora personata, number of f lowers, were evaluated during the pre-harvest every 15 days and the post-harvest variables were; leaf area index, root length, fruit and lipid yield, as well as the prof ile of fatty acids present in the fruit. Finally, peanut quality was evaluated according to CODEX STAN 200-1995, showing that the best treatment was leaching + commercial mycorrhizae, reporting yields of 65.05% of fruits and 58% of total lipids, mostly monounsaturated fatty acids (52 % oleic acid) followed by polyunsaturated (21% linoleic acid), f inally according to CODEX STAN 200-199 the peanuts obtained correspond to the basic quality with dimensions of 4 to 4.5 cm wide and long respectively, these peanuts cannot be exported but they can be marketed in the country for agro-industrial transformation, allowing improved agricultural practices by reducing the use of agrochemicals.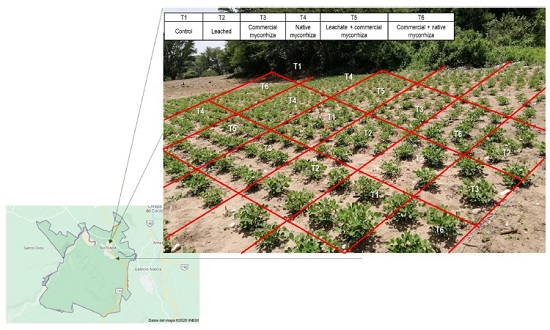 Section
Scientific Papers