Production of swiss chard (Beta vulgaris var. cicla L.) with snook (Centropomus viridis) culture effluent in aquaponic system
Keywords:
vegetables, morphometry, food safe, arid zone
Abstract
In the ecosystems of arid and semi-arid zones, food production is increasingly complex. One of the most important effects is desertification where water plays a key role. Therefore, seeking strategies for the production of safe and sustainable food is the current challenge. The production of food through aquaponics is an alternative to respond to this problem. In the Baja California Peninsula, the low annual rainfall and the geographical characteristics naturally make water scarce; but if also add anthropogenic factor, we have as a result, mostly brackish aquifers. In this context, was analyzed, the efficiency in the use of snook culture effluent, in the growth of chard, in a aquaponic system. Were measured the parameters physicochemical of the snook culture effluent and how they influence the morphometric response in chard under hydroponic system. Was compared the response with a traditional system with well water effluent and conventional fertilization. Obtained greater growth in the plants in the hydroponic system, but with snook culture effluent (with a significant difference in length, biomass, leaf area and number of leaves). This study demonstrates the efficiency of the use of snook culture effluent in the growth and development of chard. This knowledge will generate future research with application in biotechnological innovation that can be used by society, with benefits due to the ability to grow species of quality in density, take advantage of nutrients, control water availability, take advantage and improve climatic conditions. We believe that this model snook-chard is ideal for sustainable production systems.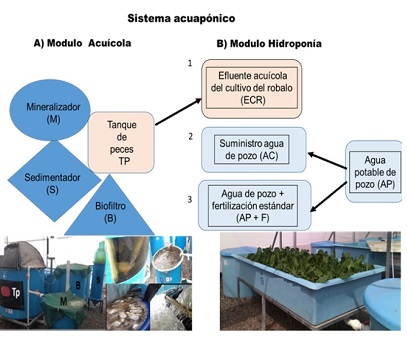 Section
Sustainable Agriculture and Agricultural Innovation in Arid Zones