Potato minituber production in aeroponics compared to soil and coir dust
Keywords:
hydroponics, recirculating systems, substrates
Abstract
Potato (Solanum tuberosum L.) is one of the main food crops for feeding the world's population. Due to the accumulation of parasitological problems, potato growers have been forced to make a greater application of pesticides, affecting the environment and prof itability. A strategy to reduce plant health problems in potato is to start the growing season with disease-free minitubers, which are grown from certif ied plants in pathogen-free soil; however, in aeroponics or in a soilless cultivation system, a higher yield and quality of mini tubers might be obtained. Therefore, the objective of this study was to determine the effect of aeroponics on minituber production compared to the production in soil or in a substrate based on coconut coir dust. In aeroponics, a mini tuber production resulted 4.4 times higher than that obtained by plants on soil, while plants on coir dust also outperformed production on soil by 40%. Higher production of minitubers in aeroponics was associated with higher stolon production, since 2.4 times more stolons were produced than those by plants in soil. In aeroponics, 96.6% of the minitubers weighed less than 50 g and only 3.4% was greater than 50 g; in contrast, 19.8% and 24.3% of minitubers were greater than 50.1 g in plants grown in coir dust or in soil, respectively. In general, the vegetative growth of plants in aeroponics was greater than that obtained in coconut coir dust and soil.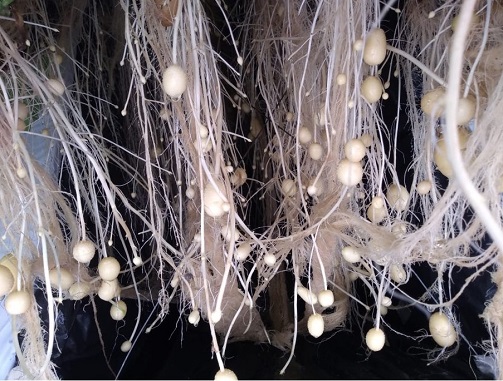 Section
Scientific Papers